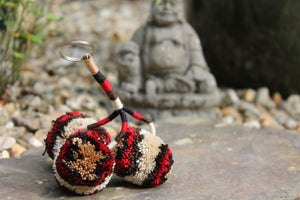 100% Authentic Handmade Wayuu Keyrings
***Authentic and Unique Wayuu Keyrings***

These Keyrings have unique combination of colours and art. 

Colours: See images. 

Dimensions: This Keyring is approximately Long: 10cm - Wide: 12cm.

This Keyring has a unique high-quality  finish which contains a beautiful combination of colours and tribal patterns made by artisan women of the Wayuu Tribe in Colombia. The artisans create new fashion products while bringing back ancient weaving techniques.
The Wayuu are the biggest artisan community in Latin American. You will get an unique and ethnically original Bracelet with the knowledge that your investment will be assisting the struggling communities of the Wayuu