Authentic Mochilas Wayuu Bags
Del Andes are purveyors of high-quality handmade Wayuu bags, the stylish and distinctive Colombian bags you can see when you travel to Colombia. All our products are handmade by Wayuu artisans in La Guajira in the North East of the country. These colourful bags are also be known as Mochilas Wayuu, and we have an extensive collection available to buy which you can see by clicking here. If you are looking for a fun and stylish bag that will have your friends asking where you got it from, Del Andes is the perfect place to come. We also have a wide selection of Wayuu accessories available and if you have any questions about any of our products, call us today on Tel: +44 7419841497 and we will happily assist you.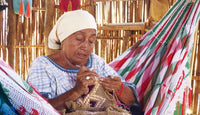 Wayuu people
Wayuu artisans are natives located in Northeastern Colombia in a region called "Guajira". Wayuu bags, known as "mochilas" and their accessories are 100% hand-made products weaved by family womans who live in small settlements known as "rancherias".
The Wayuu
Handcrafted By Colombian Artisans
The Wayuu people have a long tradition of handcrafting quality Wayuu bags, which have vibrant colours and are all unique. The vibrant colours stand these designs apart from many others that you see, making these cultural bags highly popular. The crochet Wayuu bags for sale at Del Andes are all genuine and handcrafted by the indigenous people of La Guajira, and as they are made by hand, no two are the same. All of the bags and Wayuu accessories we sell are lovingly made to the highest quality, and you can see by some of our reviews how happy our customers are with their purchases. 
Stylish Colombian Bags Suitable For Any Occasion
The handmade Wayuu bags we offer are fun and stylish and can be used for almost any occasion. Whether you are out on holiday, shopping with friends, or out with the family, our crochet Wayuu bags look fantastic and will help you stand out from the crowd. We also have a variety of stylish Wayuu accessories that you can choose from, including keyrings, necklaces, and bracelets, all handmade to the highest quality and look fantastic when paired with a Wayuu bag. For more information on any of our products or the delivery options we have available, contact Del Andes today.
Contact Del Andes Today
If you have any questions about our products or delivery services, we are happy to help. You can call us directly on Tel: +44 7419841497, send us an email to delandescol@hotmail.com, or click here and use our convenient contact form, and we will get back to you as soon as we can. You can also follow us on Facebook and Instagram and keep up to date with the latest products and special offers, sales, and competitions. If you want a beautiful and colourful, authentic crochet Wayuu bag that is as unique as you are, there is no better place than Del Andes, contact us today.